Techvagonmash designed and manufactured equipment for the pipe finishing line
05.07.2018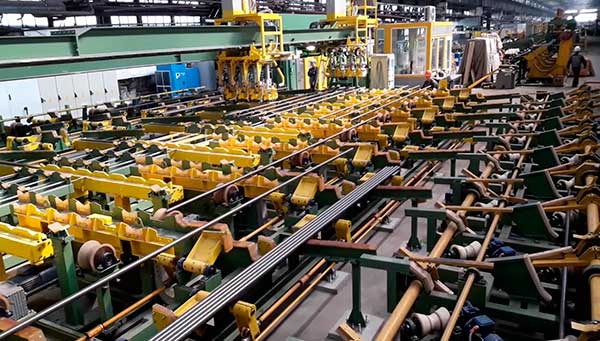 Research and Production Enterprise "Techvagonmash" designed and manufactured equipment for the pipe finishing line. The equipment was ordered by the Ukrainian industrial company Interpipe, which has already started a pilot operation of a new line at the Interpipe Niko Tube plant in Nikopol (Dnepropetrovsk Region).
The pipes are finished on the line before the loading: degreasing, stamping, marking, applying a protective coating. Equipment by Techvagonmash carries out operations on transportation of pipes, length measuring, weighing, stamping, marking. The operation for the application of protective varnish is carried out on the TubeMax UV200 plant manufactured by the German company INTEC.
As a protective varnish, special paint materials are used. They harden under ultraviolet radiation. The varnish on the products from this line hardness within 1 second. It took up to 15 minutes on the old equipment.
Such an insignificant drying time significantly increased the productivity of the line and made a performance requirement to the equipment for transport mechanization, which is manufactured by the RPE Techvagonmash. The specialists of RPE "Techvagonmash" successfully coped with the task, ensuring uninterrupted feed of pipes to the protective coating application chamber. The implementation of the line will allow Interpipe to increase the production volume of pipes for export markets and improve the quality of its products.
The installation of equipment is already finished. Pilot operation of the line has started; the production personnel is working out the procedure of coating application and selection of application modes depending on the size of the pipe. After reaching the designed capacity, the line will be able to process up to 93 thousand tons of pipes per year.